Won't You Be My Neighbor?
(2018)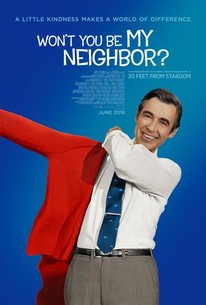 TOMATOMETER
AUDIENCE SCORE
Critic Consensus: Won't You Be My Neighbor? takes a fittingly patient and honest look at the life and legacy of a television pioneer whose work has enriched generations.
Won't You Be My Neighbor? Videos
Won't You Be My Neighbor? Photos
Movie Info
From Academy Award-winning filmmaker Morgan Neville (20 Feet from Stardom), Won't You Be My Neighbor? takes an intimate look at America's favorite neighbor: Mister Fred Rogers. A portrait of a man whom we all think we know, this emotional and moving film takes us beyond the zip-up cardigans and the land of make-believe, and into the heart of a creative genius who inspired generations of children with compassion and limitless imagination.
News & Interviews for Won't You Be My Neighbor?
Critic Reviews for Won't You Be My Neighbor?
Audience Reviews for Won't You Be My Neighbor?
Given the uncertainty, cruelty, and division of recent news headlines, in many ways the documentary Won't You Be My Neighbor? is the kind of movie we need right now, a film that reminds the significance of vulnerability, empathy, and simple kindness. It's also, in certain ways, a pretty shallow documentary afraid to go too far with its subject matter. From the Oscar-winning director of 20 Feet From Stardom, this is another movie giving the spotlight to a reserved soul deserving of praise, and it hits you square in the feels. It's hard not to have your heart warmed by the footage of Fred Rogers, he of the long-running and inspiring Mr. Rogers' Neighborhood, impacting children and adults, seeing those smiling faces light up with pride and joy. There's a woman at a commencement that thanks him for essentially providing her preschool education for her when her parents could not afford one. Rogers was not afraid to broach serious subjects, devoting episodes of his children's series to divorce, death, assassination, and racial integration. It's a neighborhood with a lot more daring messages than you might have recalled as a child. However, there are opportunities to push beyond the Mr. Rogers' image (though he very much was what you saw) and the film shies away from going too far. The actor who played Officer Clemons was gay, but Rogers said if he came out he would have to regrettably kick him off the show because it would be too controversial. There's a moment where the talking head interviews talk about Rogers transforming into his King Friday alter ego, but it's over so quickly it seems odd even being mentioned. After the horror of 9/11, Rogers was brought out of retirement to speak, but he wondered if he still had any ability to really reach an audience in trauma any longer. I would have liked to have delved into these questions more, but that would detract, I suppose from the overall feel-good, glowing, crowd-pleasing and admittedly heart-warming portrayal. Nate's Grade: B
Nate Zoebl
Super Reviewer
½
IT'S A BEAUTIFUL DAY IN THE CINEMA - My Review of WON'T YOU BE MY NEIGHBOR? (4 1/2 Stars) There's no other way of putting this. Morgan Neville, who won an Academy Award for his fantastic documentary, 20 FEET FROM STARDOM, has outdone himself with one of the best, most emotionally fulfilling, resonant films of our time. Tracing the career of Fred Rogers, the creator and star of the popular, decades-long running children's program, "Mr. Rogers' Neighborhood", WON'T YOU BE MY NEIGHBOR? exudes as much generosity and kindness as the man himself. Confession time. I never cared for the program. I found Rogers' personality passively unctuous and the pacing of his show deadly dull. Give me the acid trip that was "Pee Wee's Playhouse" any day over this. I also always assumed Rogers' was a closeted gay man, same with Pee Wee for that matter, so things always felt a little off to me in a somewhat creepy way. Years later when Martin Short's Jiminy Glick would disingenuously go on about his wife Dixie while whispering in his high-pitched voice, I couldn't help but think of Fred Rogers. It would almost literally take an Act of Congress to turn me around on Mr. Rogers. And yet, here we are, with a remarkable film, hitting this world at just the right time, convincing me that this man was nothing less than a national treasure. How we treat each other has shifted dramatically since the days his show debuted in the late 1960s. Civility seems to have disappeared as we bury our faces in our phones and yell at each other on Facebook. Sure, we've also made great steps towards diversity and experiencing other cultures, but there's not a whole lot of evidence that our social skills are improving. When you see the President of the United States spouting racist, sexist, homophobic remarks, or mocking the #METOO movement, or threatening to commit violent acts against those who oppose him, you know we've come a long way from changing into a cardigan and espousing love, kindness, and good listening skills. This, however, is exactly what Fred Rogers stood for, this man who was a lifelong Republican and an ordained Presbyterian Minister who exemplified the best values of them whereas both seemed to have been overrun by true monsters. This documentary does a great job of showing what a radical badass he was, from the topics he discussed on his show such as the evils of segregation and separatism. His puppet creations even got in on his aesthetic by highlighting the folly of building a wall around a country. Incredible prescience! That slow pace I despised as a child even had its purpose. Fred found great value in the spaces between words, attentiveness, and the peacefulness in a slowed down world. I think so many of us are craving this right now more than ever, and Rogers led it by glorious example. Footage of him almost single-handedly saving the Public Broadcasting System, which then President Nixon wanted to gut to pay for the Vietnam War, floored me. His unwavering dedication to those delicate years of childhood development probably helped stave off the an even bigger wave of bratty bullies we now hear about daily. It's quite unnerving to hear conservative pundits trying to blame Rogers for influencing generations of entitle brats, when his entire mission was based on kindness. It would be so easy to point those fingers at the truly awful people in the world, like Fred Phelps and his despicable gang, but if we're to learn anything from this film, it's learning how to fight for your beliefs while still maintaining love for your neighbors. Sounds hokey, but it's possibly the only way we may ever get ourselves out of this mess. But enough soapboxing, let's talk about the film itself. I wish it had delved more into Rogers' upbringing and personal life. It's a bit of a puff piece in that regard, but my guess is that he was such a Modern Day Jesus that absolutely nobody had anything bad to say about the man. You certainly feel the love from his delightful wife and sons as well as his many colleagues. Most touching of all is how he handled his friendship with Fran?ois Clemmons, who played Officer Clemmons. Openly gay in real life, he portrayed black Officer Clemmons, who at the height of the Civil Rights Movement gets invited by Rogers to share a dip in a little swimming pool. At the time, this was truly groundbreaking stuff. Clemmons also discussed being openly gay, with Rogers wanting to hide this lest they lose their sponsors. Despite this understandable misstep, Rogers proved to be a loving friend to people of all stripes. His treatment of a children with disabilities moved me to tears, as did almost every single act of kindness in this film. Everything I felt about this man got turned around by what I saw here. Even my suspicions that he was gay get discussed when Tom Snyder, a major talk show host in the 1970s asked Fred if he was gay. He actually asks him if he's "square", if he's straight. It's an odd moment which doesn't get a response out of Fred. Part of me thinks he still may have been gay, or maybe he was the classic effeminate heterosexual. It doesn't matter. WON'T YOU BE MY NEIGHBOR celebrates what the man was about rather than delve into extraneous details. It feels gloriously well-rounded and has one of the loveliest endings I've ever seen, one which honors his aesthetic in the most perfect of ways, and once again, reduced me to tears. Bring plenty of tissues and an open heart which wants to be filled. Do not miss this absolutely great documentary.
Glenn Gaylord
Super Reviewer
½
Documentaries are always a great learning tool for those who haven't delved into the world that a particular film is exploring. To myself, they are a dime a dozen, due to the fact that it takes a lot for a documentary to hold my interest from start to finish. Make films in this genre take their biggest moments and spread them very thin throughout their two-hour running time and while that may work for some, it usually doesn't for me. In my opinion, a documentary doesn't work unless it has important things to say in each and every segment that it presents to its audience. One of the most buzzed-about documentaries of 2018 has just hit the big screen and even with everything I just mentioned, I can admit the buzz around this film is well-deserved and then some. Here's how Won't You Be My Neighbor? moved me and why I believe it will move most viewers. This film follows the life of Fred Rogers. Through interviews and old footage from sets or real locations, its main job is to showcase how truly terrific of a person this man really was. Meshing that aspect with the fact that he was secretly (and sometimes not so secretly) representing the real world, and all of its harshnesses, through his puppets or even personal examples on his show, made for a very emotional experience in my eyes. The conclusion of this film moved me to tears and will probably make quite a few audience members reflect on everything they've done throughout their life, whether good or bad. Whether you want to believe it or not, I think this is the film that's needed today. This film hits on a lot of important issues, so when I dive into this particular one, please don't think of it as a spoiler for the movie. There is a moment when an interviewee is asked about television nowadays and he responds along the lines of, "There just isn't enough room on television today for a nice guy." From re-runs of classic shows to the amount of R-rated content being provided even on Netflix or primetime television, you'd think that someone out there would give the green light to a show that would teach lessons to kids. Many audiences and critics say that we are in the golden age of television, but shows like this need to be around forever. This man's material was clearly inspired and this film only gives you hope that someone will come along with as much passion as he did in being a television icon. Most documentaries seem to drag in my opinion, because they focus too much on side stories and lose focus on the main message they're trying to get across. At a breezy 95 minutes, the emotional connection this film makes with (probably) the majority of its audience makes it a very easy watch. That being said, there are themes that are hearty for children throughout this movie, but I do believe this film should be seen by them as well. Showcasing many portions of his famous show and explaining the meaning behind certain characters/events, Won't You Be My Neighbor? almost fills the void of not having this man around anymore. Overall, I can't say this film offered any big surprises that would force audience members to rush out and see this movie, but the emotional connection that it makes to its audience is well worth the price of admission. This movie sucked me in from start to finish and truly had me thinking throughout. If a documentary can accomplish that, then it's a winner in my eyes. My sincerest applause goes out to the filmmakers of this documentary. This one is a must-see.
Won't You Be My Neighbor? Quotes
There are no approved quotes yet for this movie.