Equalizer 2
(2018)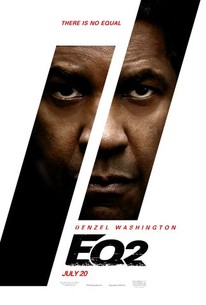 TOMATOMETER
AUDIENCE SCORE
Critic Consensus: The Equalizer 2 delivers the visceral charge of a standard vigilante thriller, but this reunion of trusted talents ultimately proves a disappointing case study in diminishing returns.
Movie Info
Denzel Washington returns to one of his signature roles in the first sequel of his career. Robert McCall serves an unflinching justice for the exploited and oppressed - but how far will he go when that is someone he loves?
News & Interviews for Equalizer 2
Critic Reviews for Equalizer 2
Audience Reviews for Equalizer 2
½
The "Equalizer 2" doesn't stray far from the formula established is Fuqua and Denzel's first foray, and as such there is entertainingly familiar fun to be found. But the routine is also frustrating considering "The Equalizer 2" does little to elevate itself above what we saw in the first. Solid filmmaking and central performance still apply, but the side characters and central villain are more predictable and less memorable. A competent and harmless disappointment, and the sort of sequel Netflix was made for.
The Equalizer 2 is lucky that the threshold for entertainment is just low enough to cover even middling affairs where Denzel Washington dishes out righteous justice to the cocky criminals and ne'er-do-wells of the world. This is very much a strict formulaic second entry for 2015's original movie, based on the TV series. It's lesser in just about every regard although it returns Washington, director Antoine Fuqua, and writer Richard Wenk. It's hard not to feel like a paycheck venture where everyone went on some autopilot. The plot takes a bit long to get into gear and it's desperately missing the first movie's lead mob investigator to create an enticing game of cat and mouse. I miss the gradual escalation, as Washington's character gets in worse and worse trouble as he moves up the ranks of the Russian mafia. I would actually say Equalizer 2 is a movie that peaks in its first act (my favorite moment was an episodic dishes of violent retribution with a group of arrogant sexual assaulters). There just isn't anything truly memorable here. The action can often feel murky with how it's been photographed, and there is the occasional questionable quirk that would take me out rather than fully engage (baking flour is combustible now?). There is a satisfying storyline where Washington reaches out to an at-risk youth to dissuade him from joining a gang. It has some nicely drawn character moments that feel meaningful, but then it's back to the grind of whatever an Equalizer movie means in the twenty-first century. I enjoyed the first Equalizer as a modern-day Canon action vehicle with some pretty sickly entertaining deaths and taut action/suspense sequences. It was a movie that made its presence felt beyond Washington's cool charisma. With the sequel, all we're left with is Washington's charisma performing the heavy lifting. Nate's Grade: C+
Nate Zoebl
Super Reviewer
It's not all that often that a film receives lukewarm critical reception and only a decent box office return, but still somehow manages to get its main star and director returning for a sequel, but here we are. The Equalizer 2 has just hit the big screen and I feel my reception of this film is going to be different from many viewers. The first film was a solid movie that took far too much time to get to each action sequence and its runtime was far too long in my opinion. I enjoyed it, but I wasn't raving about it like a lot of moviegoers were. With that said, I find myself feeling that way towards this sequel. In my opinion, The Equalizer 2 takes the best elements of the original film and goes in a new direction, which I think made for a much better viewing experience. Here's why I believe this is a superior film and why you absolutely should check it out if you liked the first film, or if you're just a fan of the genre. When the first movie concludes, it has a slight opening to allow for sequels, which I was pleased by, because with a central character like Robert McCall, there is a lot you can do, story-wise. Continuing to explore the underground gangs and any other clans that may be wronging citizens around him, he now operates as a Lyft driver, meeting as many people as possible and getting to know different personalities. When a close friend is taken from him, he is thrust back into action, bringing up hidden secrets from his past and making for a much more engaging piece of storytelling (in comparison with the first film) in my opinion. On top of that, the absolute best thing about this film is the fact that it doesn't have much connection with the first film at all and really does stand on its own. Denzel Washington continuously proves why he is known as one of the greatest actors of our generation and his performance here doesn't hinder that at all. His person on-screen is enough to hook you alone, but I believe the true standout performance/character here is in Miles Whittaker, played very well by Ashton Sanders. Receiving critical praise for his role in Moonlight, I have had my eye on him ever since, and I recognized him the second he popped up in this film. His character arc was fantastic in my opinion and is pretty much what took this film from being enjoyable to bordering on being great. In terms of the action, you pretty much get what you expect and the movie plays out in a very similar fashion to its predecessor, but I think the pacing is far more improved here. With some hardcore kills and a final set-piece that felt very unique for a film like this, I was impressed from start to finish. When it comes to the villain of the film, however, I was surprised, but letdown at the same time. You can sort of see when a villain will come into play, and the way that it occurs did catch me off guard, but, upon re-viewings, I truly believe that twist will wear pretty thin. Overall, The Equalizer 2 does almost everything that the first film failed to do for me. It creates a compelling reason for him to need to dive into his past, it brings in new supporting characters that added a much-needed depth to the overall emotional core, and the action sequences didn't feel as much like set pieces as they did in the original movie. At a solid two hours, I think this film breezed by fairly quickly and the direction by Antoine Fuqua is definitely the culprit for that aspect. He is always able to get fantastic performances out of his actors and I can truly see him directing a film that receives Academy recognition one day. The Equalizer 2 has its issues and won't be everyone's cup of tea, but if you enjoyed the first movie or if you liked it in any way, I have a feeling you won't be disappointed with this follow-up.
Equalizer 2 Quotes
There are no approved quotes yet for this movie.