Eighth Grade
(2018)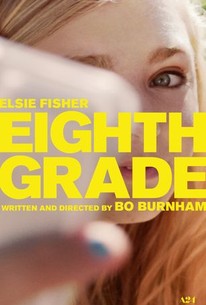 TOMATOMETER
AUDIENCE SCORE
Critic Consensus: Eighth Grade takes a look at its titular time period that offers a rare and resounding ring of truth while heralding breakthroughs for writer-director Bo Burnham and captivating star Elsie Fisher.
Movie Info
Thirteen-year-old Kayla endures the tidal wave of contemporary suburban adolescence as she makes her way through the last week of middle school--the end of her thus far disastrous eighth grade year before she begins high school.
News & Interviews for Eighth Grade
Critic Reviews for Eighth Grade
Audience Reviews for Eighth Grade
½
An interesting and thoughtful look at a character that oftentimes is dismissed in movies. Funny and heartfelt, but leaves you wanting more from the story, which feels incomplete.
Spencer Macklin
Super Reviewer
I'm a fan of Burnham's, so I expected a lot from this film, and he did not disappoint. Apart from a few after school special tropes in the beginning, Burnham and Fisher really capture the realism of middle schools, while hitting a lot of subtle nuances that many media portrayals of schools miss. The laughs and the cringes are plenty and welcome, as are the heartfelt moments and moments of self-discovery. I look forward to more Bo Burnham written and directed films after this great debut.
Sanjay Rema
Super Reviewer
Disarmingly and impressively empathetic, writer/director Bo Burnham's Eighth Grade is brimming with heart and authenticity in every frame. It's a simple story of Kayla (the wonderful Elsie Fisher) who is weeks away from completing her middle school years and entering the summer before high school. She's terribly introverted and awkward, only able to find her voice when recording her YouTube pep talk videos. Because of the protagonist's shy nature, Burnham smartly uses the YouTube videos often as voice over to offer better insight into the kind of person Kayla would like to present herself, sometimes contrasting with the real-life version struggling to find her place and sense of self. This is an observant film that rings with authenticity with the trials and tribulations of modern teenagers in the information age, where small screens are an escape, a crutch, but also a gateway to self-discovery. Fisher is a terrific lead, perfectly capturing the understated sense of a real average teenager (acne included). Because of the introverted and ordinary nature of her, it does take a while to fully embrace her as a character. This is the one real aspect that holds back Burnham's film. You'll feel for Kayla, oh you'll feel a lot of things, but it isn't until later that you'll engage with her. Like its heroine, this is a powerfully awkward movie with several cringe-inducing moments both comic and scary. It's hard to watch at times but it feels completely relatable even with the new-fangled gadgets of the kids these days. I'm just glad I didn't grow up in the age of ever-present recording devices. It's a generous movie without an excess of quirk. In fact the movie is pretty restrained with its vision of teenage uncertainty. I did enjoy the synth wave leitmotif that would pound whenever Kayla caught sight of the boy she was crushing on, communicating the beating of her heart in a cool, modern style. The climax involves a heart-to-heart with Kayla's dad (Josh Hamilton), a man struggling to navigate the changes in his daughter and respect her privacy and curiosity. It brought tears to my eyes and, in my opinion, wipes the floor with the much-ballyhooed paternal advice from Call Me By Your Name. Burnham acquits himself nicely as a director quite well. His choices are determined by his story, and he draws out completely natural performances from his troupe of talented actors. I never would have thought this would be the kind of story a comic drenched in irony would tackle. Eighth Grade is a sincere, deeply heartfelt, and awkward movie about an awkward time most of us would like to skip. Don't skip Eighth Grade. Nate's Grade: B+
Nate Zoebl
Super Reviewer
Eighth Grade Quotes
There are no approved quotes yet for this movie.